Dedicated Drums Music Workshop
Every Monday 1pm – 4pm at The Shift Café, Burnley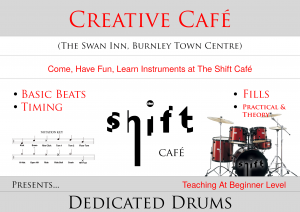 ABOUT THE WORKSHOP:
Dedicated Drums is a free music workshop for beginners.
You can't deny you've ever not wanted to have a bash but even more so be able to play a beat! Well this free workshop aims to arm you with the fundamentals of drumming.
Learn how to play a beat, fill and learn about timing in this practical and theory based workshop.
You are most welcome to come along and just feel the beat and absorb the atmosphere.  Percussion is also available.
MUSIC THERAPY:
Learning, music and being creative has been proven to have many health benefits including with depression, anxiety and in addition it is known as a great way to socialise. We believe it can help both mental and physically.
We have found many people have benefited from our various sessions at the café.
ALL are welcome!
SUPPORT THE SHIFT:
Please support the café by purchasing their food and drink.
Times:
1pm – 4pm – Every Monday
Location:
Above The Swan Inn, Burnley Town Centre
Address:
The Shift Café, 44 St. James' Street, Burnley, BB11 1NQ
Phone:
01282 413098
Find Us On Facebook:
www.facebook.com/TheShiftCafeBurnley
Find Us On Twitter: