I Can('t) Play an Instrument Workshop
Every Sunday 12pm – 2pm at The Shift Café, Burnley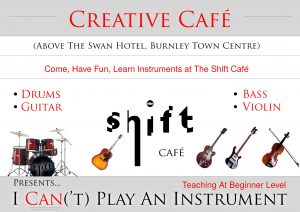 ABOUT THE WORKSHOP:
A social gathering; learn guitar, keyboard, bass, drums and violin.
Step by step music tuition for beginners and those looking to get creative, take their mind off their troubles or looking to learn music.
We teach you a bit of everything including drums, guitar and piano.
ALL are welcome!
SUPPORT THE SHIFT:
Please support the café by purchasing their food and drink.
Times:
12pm – 2pm – Every Sunday
Location:
Above The Swan Inn, Burnley Town Centre
Address:
The Shift Café, 44 St. James' Street, Burnley, BB11 1NQ
Phone:
01282 413098
Find Us On Facebook:
www.facebook.com/TheShiftCafeBurnley
Find Us On Twitter: