Arts and Crafts Workshop
Every Tuesday 2pm – 4pm at The Shift Café, Burnley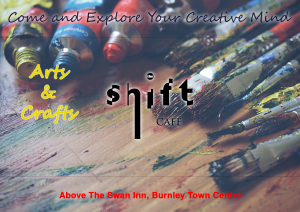 ABOUT THE WORKSHOP:
"Whatever Your Ideas Are You Can Touch Them!"
Come along to The Shift Cafe every Tuesday for 'Figure & Diorama making' with animator Jonathan Marchant.  We will be showing you how to create 3D models and so much more!
ABOUT THE WORKSHOP:
The introductory workshop will involve:
1) Introducing your host, Jonathan Marchant, and each other
2) Finding out peoples interests and experience
3) Introducing the subject, 'figure and diorama' making
4) Deciding the process and its possibilities (e,g literal, abstract, fantasy, etc)
5) Basic compositional elements discussed via a simple activity.
6) Colour and its impact ?
All of the above will be illustrated by examples: 3D & design process drawings.
Why 3D? Conversation. ? means, methods, materials ?
MEANS, METHODS AND MATERIALS:
We will cover the means, methods and materials and we'll use conversation and activities to be built upon them. This will enable you to achieve your own "Diorama & Figure" display. If you enjoy giving free reign to imaginative thought you will definitely enjoy yourself! If you think you're not imaginative, think again and come along! You'll enjoy yourself and surprise yourself.
Everyone has a creative soul, once you open your mind to it. But how can you incorporate it into your everyday life?
ALL are welcome!
SUPPORT THE SHIFT:
Please support the café by purchasing their food and drink.
Times:
2pm – 4pm – Every Tuesday
Location:
Above The Swan Inn, Burnley Town Centre
Address:
The Shift Café, 44 St. James' Street, Burnley, BB11 1NQ
Phone:
01282 413098
Find Us On Facebook:
www.facebook.com/TheShiftCafeBurnley
Find Us On Twitter: