Creative Thinking Games Workshop
Every Friday 2pm – 4pm at The Shift Café, Burnley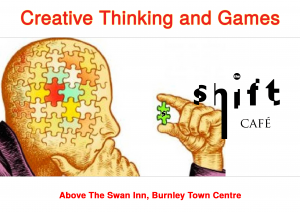 ABOUT THE WORKSHOP:
Our workshop is designed for stimulating minds and improving mental health through being creative.
We pride ourselves on making you feel comfortable so don't be a stranger. There is also a 'games master' at every workshop to help out but please remember there's no need to feel obliged to join in. Its' about having fun and you can get involved if, and when, you are ready.
We are all aware that we are living in an ever increasingly digitalized, automated age, so The Shift Cafe are bringing you relief from all this isolating technology and the like .. Encouraging face-to-face interaction…
Our 'Board Games Club' is not "bored" games but unique, modern board games with an emphasis o thinking with a great bunch of people. They are interesting, educational and fun AND suitable for all ages!
GAMES AVAILABLE:
Our games, some of which you may or may not have heard of, are:
– Concept
– Dixit
– Timeline
These games encourage thinking and problem solving and are really beneficial for social anxieties and creating enthusiasm through creative thinking.
You also free to bring some of your board games also!
The Shift Café is a comfortable environment where people can meet, socialise and play 😀
ALL are welcome!
SUPPORT THE SHIFT:
Please support the café by purchasing their food and drink.
Times:
12pm – 4pm – Every Friday
Location:
Above The Swan Inn, Burnley Town Centre
Address:
The Shift Café, 44 St. James' Street, Burnley, BB11 1NQ
Phone:
01282 413098
Find Us On Facebook:
www.facebook.com/TheShiftCafeBurnley
Find Us On Twitter: