Table Top Together Games
Every Friday 1pm – 4pm at The Shift Café, Burnley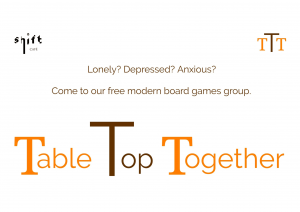 ABOUT THE GROUP:
Tabletop Together is a board game group aimed to support people who are feeling depressed, anxious or isolated through fun and easy to learn games. We want you to enjoy your afternoon with us so below is a list of things we feel is important for you to know:
– Although, Tabletop Together is primarily aimed at people with mental health difficulties, it is open to everyone who would like to join in.
– The games aren't 'bored' games but modern board games perfect for stimulating the mind. There are games to encourage creative thinking such as Concept. Games for improving logical thinking such as Tsuro. And then there are fun group games designed around bluffing such as Insider. There's something for everyone.
– Although the games may look complex when they are first set up, someone will always be available to explain and you will soon find they are simple and easy to learn.
– People are welcome to come with friends and borrow games to play for the duration. Alternatively, there will always be another game running that anyone is welcome to join in on at any time.
– The group takes place at The Shift Café which is very friendly, comfortable and calm. – The group is free to take part in but refreshments are available to buy from the actual café (and the toasties are delicious!).
SUPPORT THE SHIFT:
Please support the café by purchasing their food and drink.
Times:
1pm – 4pm – Every Friday
Location:
Above The Swan Inn, Burnley Town Centre
Address:
The Shift Café, 44 St. James' Street, Burnley, BB11 1NQ
Phone:
01282 413098
Find Us On Facebook:
www.facebook.com/TheShiftCafeBurnley
Find Us On Twitter: