Sunday Sessions Music at The Shift Café
Every Sunday 1pm – 4pm at The Shift Café, Burnley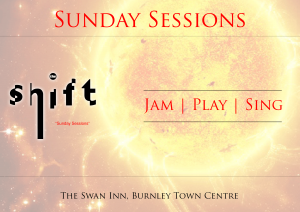 ABOUT THE WORKSHOP:
The 'Sunday Sessions' is a free-for-all music event where you can let your energy and free your mind again before the next Monday arrives.  You are free to use the instruments at the café or jump on and do karaoke.
All are welcome from beginners to the experienced.  For those that are serious about music, writing music, and even those that may want to get involved in playing live events.
INSTRUMENTS:
It's a great opportunity to have a relaxed jam with your friends.  We have PA, acoustic, bass and electric guitars, full drum kit, mini cajon, keyboard and tambourine.
You can also have a toastie and a drink of your choice with no pressure of a big audience and without costing a fortune for a day out!
SUPPORT THE SHIFT:
Please support the café by purchasing their food and drink.
Times:
1pm – 4pm – Every Sunday
Location:
Above The Swan Inn, Burnley Town Centre
Address:
The Shift Café, 44 St. James' Street, Burnley, BB11 1NQ
Phone:
01282 413098
Find Us On Facebook:
www.facebook.com/TheShiftCafeBurnley
Find Us On Twitter: