Poetry, Spoken Word and Music Night
First Wednesday of Every Month – 7pm – 11pm at The Shift Café, Burnley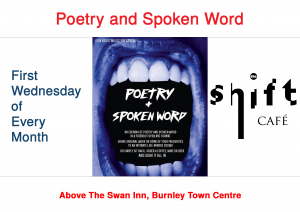 THE STAGE IS YOURS!
A chilled evening of poetry, spoken word and other delights.
Share original work or some of your favourites to an intimate like-minded crowd or simply sit back, order a coffee, wine or beer, and soak it all in!
ABOUT THE NIGHT:
The night is always entertaining and fun and it always  reminds us that our local area is full of talent and is missing an outlet for creative writers to share their work, thoughts and ideas.  We now have a place to be inspired by other work whether you are a seasoned wordsmith or new to the game.
This night exists to fill that space and support local artists, please show your support by attending and sharing.
YOUR FRIENDLY HOSTS:
Thank you to Dave D Law and Matt Tustin who always provide such a great night and mid-interval entertainment.
ALL are welcome!
SUPPORT THE SHIFT:
Please support the café by purchasing their food and drink.
Times:
7pm – 11pm – FIRST Wednesday of Every Month
Location:
Above The Swan Inn, Burnley Town Centre
Address:
The Shift Café, 44 St. James' Street, Burnley, BB11 1NQ
Phone:
01282 413098
Find Us On Facebook:
www.facebook.com/TheShiftCafeBurnley
Find Us On Twitter: