Reading, Writing, Numeracy and Literacy Workshop
Every Tuesday 4pm – 6pm at The Shift Café, Burnley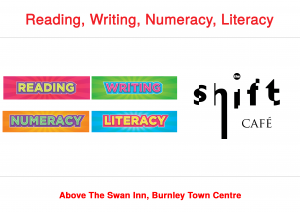 ABOUT THE WORKSHOP:
We haven't all been privileged to grow up in a literate family or had the chances to be able to learn the essentials in life.  We have therefore set up this workshop to offer like-minded and willing people to join each other in a non-judgmental way.
Feel free to bring a friend or come on your own you will always be made welcome.
ALL are welcome!
SUPPORT THE SHIFT:
Please support the café by purchasing their food and drink.
Times:
4pm – 6pm – Every Tuesday
Location:
Above The Swan Inn, Burnley Town Centre
Address:
The Shift Café, 44 St. James' Street, Burnley, BB11 1NQ
Phone:
01282 413098
Find Us On Facebook:
www.facebook.com/TheShiftCafeBurnley
Find Us On Twitter: