Wednesday Karaoke / Jam Session
Every Wednesday 1pm – 4pm at The Shift Café, Burnley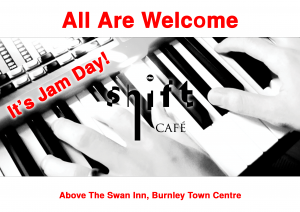 ABOUT THE WORKSHOP:
Our workshop is designed for stimulating minds and improving mental health through being creative.
We pride ourselves on making you feel comfortable so don't be a stranger.  You can feel absolutely free to come and watch and absorb the atmosphere no pressure is put on anyone to play.
INSTRUMENTS AVAILABLE:
Our instruments include:
– Guitars
– Bass Guitar
– Piano
– Full Drum Kit and Cymbals
The Shift Café is a comfortable environment where people can meet, socialise and play 😀
ALL are welcome!
SUPPORT THE SHIFT:
Please support the café by purchasing their food and drink.
Times:
1pm – 4pm – Every Wednesday
Location:
Above The Swan Inn, Burnley Town Centre
Address:
The Shift Café, 44 St. James' Street, Burnley, BB11 1NQ
Phone:
01282 413098
Find Us On Facebook:
www.facebook.com/TheShiftCafeBurnley
Find Us On Twitter: