Claret and Brew Music Workshop
Every Thursday 2pm – 4pm at The Shift Café, Burnley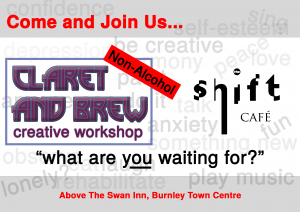 ABOUT THE WORKSHOP:
A social gathering; especially for those surrounding abstinence, recovery and well being.  Come and learn guitar, piano and drums or come and offer your services to help others.  Helping people get creative, take their mind off their troubles and providing a friendly gateway for those looking to learn music.
Its absolutely free and refreshments are available at a very low cost including hot drinks, soft drinks and toasties.  Get yourselves down and enjoy a fun musical get together with like-minded people.
WHO ARE CLARET AND BREW?:
Claret and Brew are a local based charity that help people suffering addiction.  This is their weekly music workshop where you can learn instruments, have a go at song/poem writing, and design graphic flyers.  You can also aim to to get a feel round a recording studio. You may even get the chance record a song.
NOTE: Our group has recovering members so no alcohol will be allowed in the cafe during the workshop and anyone under the influence will be asked to leave.
Visit our all new website for other activities www.claretandbrew.org
#YourJourney
Claret and Brew Team
Times:
2pm – 4pm – Every Thursday
Location:
Above The Swan Inn, Burnley Town Centre
Address:
The Shift Café, 44 St. James' Street, Burnley, BB11 1NQ
Phone:
01282 413098
Find Us On Facebook:
www.facebook.com/TheShiftCafeBurnley
Find Us On Twitter: