Arts and Crafts Workshop
Every Tuesday 1pm – 4pm at The Shift Café, Burnley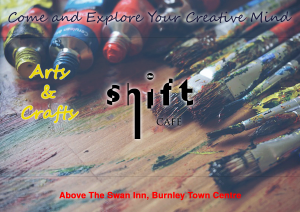 ABOUT THE WORKSHOP:
Come along to our arts and crafts group where we use sewing machines whilst some are knitting and painting.
You can meet with likewise creative types, have a chat and a toastie or use our canvases to paint!
It is laid back atmosphere where we can try to connect some people through photography and arts.
SUPPORT THE SHIFT:
Please support the café by purchasing their food and drink.
Times:
1pm – 4pm – Every Tuesday
Location:
Above The Swan Inn, Burnley Town Centre
Address:
The Shift Café, 44 St. James' Street, Burnley, BB11 1NQ
Phone:
01282 413098
Find Us On Facebook:
www.facebook.com/TheShiftCafeBurnley
Find Us On Twitter: